Very happy to share with you this ...
A special invitation to international football journalist Paul Giblin
It's a big welcome this new month to
Paul Giblin
Paul Giblin is a journalist specializing in football with a wealth of international experience. Apart from high level work in Spain during nearly twenty years he has also been sports editor of the Hull Daily Mail. In his time in Spain he has worked for PA and Real Madrid TV, including coverage of the 2006 World Cup. He has spent five years as the Press Association's full-time correspondent on Spanish sport, based in Madrid. He has long-term working connections with Mediapro (the Spanish production company behind GolT, beIN Sports etc).
With such knowledge this is the ideal man to reveal to us the relative strengths of the British and European game in today's world. I hope you enjoy reading it, and as always … please show your appreciation lads & lasses!
daib0
So, let's get straight into the ring!
1 * First off Paul, please tell us something about yourself! Anything! Like … what were your favourite subjects at school? Did you do further studies? Please describe an introduction for us of your working environment!
I was born in Hull, an only, child (which probably explains a lot as did the fact I went to a Catholic boys' school) and at school I used to enjoy History and English … I was and still am useless at maths. I went on to university and studied history there, which was a lot of fun, although it was a bit of a culture shock at the time.
It was a time when you studied what you wanted and then looked for a job, rather than studying marketing, business studies or something equally dull.
Did it help me get a job? Maybe.. . After university I lived in London for six years, working mainly in publishing, although there was a bit of a false start as a medical records clerk at a well-known hospital.
I then came to Spain as I was made redundant, had just split up with my ex-girlfriend (well, she split from me) and needed a change. I did a TEFL course and took a chance. I was teaching for around 8 years before I started with the Press Association, thanks to an advert my aunt saw in a free local paper. That was a stroke of luck as was the fact that Real Madrid signed David Beckham in 2003, thus increasingly the interest in Spanish football and opening the door for myself to get into commentaries. (at the time there were very few English journos who spoke Spanish, so I started commentating La Liga games for Mediapro (the Spanish production company behind GolT, beIN Sports etc).
That was the way in and more or less, I have carried on with them. I have to admit the doors opened purely by chance and I was in the right place at the right time, but I am going to say, that had I been truly dreadful at it, I'd have been out of the door a long time ago.
2 * In the first instance, let's focus on your team … why is Hull City your team and not any other? Why do you specially identify with the team?
Obviously I support, Hull City, because I am from Hull, supporting any other side wasn't really an option, you have to support your home town club through thick and thin… I get really annoyed seeing people wearing Liverpool or Man Utd shirt (or Chelsea) when they have no links at all to the clubs, except they get happy when they win on Match of the Day.
3 * Possibly the best and worst memories during your time in supporting your team? And the more recent boardroom activities - "Hull Tigers" and all that?!
My best memories supporting Hull were probably in the early 80's… when they were promoted from the 4th to 3rd division and went to the 2nd… it was the first team I had supported and to see them perform well, was great. I used to go to lots of games in the north and used to enjoy the derbies against York and Scunthorpe… It was a good team with Brian Marwood, Steve McClaren (him!) and Billy Whitehurst…jeje.
Worst memory was getting bricks thrown at us in Oxford…. Dreaming spires my *rse!!! And a trip back from a FA Cup tie away to Spurs with no windows in the coach in early January… that was a bit chilly to say the least.
4 * Which are the best and worst away grounds in Britain you've visited? And why? And how do you rate your own ground?
As a result of that, I am going to say the worst away grounds for me are White Hart lane and the Manor Ground… (obviously)… Elland Road was a bit scary too as a (cowardly) teenage fan.
As for our grounds, I was very affectionate about Boothferry park, as it slowly fell to pieces. The KC Stadium now is nice and 10 mins away from home, and was certainly vital in the turnaround in fortunes for the club as the number of fans doubled overnight….but I fell it lacks atmosphere (partly because there are so many new fans perhaps and others who only go now we are in the Premier League… in general I have to confess, at home City fans are a bit quiet…those who travel tend to make a lot more noise…
5 * Which other team or teams have you a soft spot for? I must ask out of curiosity, how do you rate Reading?!
As for other sides….. I'm a bit of a northerner, so I tend to prefer sides from the north (especially against Chelsea or Arsenal) I have a slightly soft sport for Newcastle because I also support Athletic Club Bilbao here in Spain and the two sets of fans get on well after a UEFA Cup tie in the 94/5 season.
God forbid me, but I always used to quite like Man Utd….more than anything because of the 'Fergie Babe's generation and the fact they at least bring players out of the youth sides. I am seriously reconsidering this position with the appointment of Satan as their new coach, however..
I have to be honest, hold my hands up and say, I've never really taken much interest in Reading…I was all for that stand against Fat Bob and his ridiculous Thames Valley Royals idea and I pay a bit more attention to their results after the signing of Quinny and McShane.
6 * In general, your favourite footballer/s and/or sportsmen/sportswomen of all-time?
I suppose my sporting hero would have to be Eddy Merckx… fave footballers: Julen Guerrero, David Beckham and Billy Whitehurst, Becks because his arrival indirectly opened the door for me, so I have to be grateful and 'Big Billy' because you never really knew if he was going to finish the game or be sent off…a legend.
7 * If there is one thing above all you could change in football, what would it be?
If I could change anything in the game, I suppose right now it would be to try and limit the power of agents, they do seem to be holding clubs to ransom these days and I am not sure it is always good for the players to have someone looking to move them on as there will be money in it for them…
8 * Did your Spanish move change your life, your philosophy to life? And did you quickly adapt? Could you tell us a little about your chief responsibilities?
Over here I work for a news agency and then at the weekends for beIN /Mediapro, either commentating the Premier League in Spanish or La Liga in English….it will be more Liga this year cos we lost Premier League rights…. Boo, It can be a bit frustrating as so much is done from the studio in Barcelona and I miss getting to grounds, taking in the atmosphere and talking to other journos etc…. It's important to be in touch with press and fans otherwise you can work in a bubble, although Twitter gives you a decent view of what people think (a times a bit TOO decent to be honest).
As I'm based in Madrid, that means a lot of AVE, which is wonderful, but I am a bit tired of the same trip week in week out (I take the train cos I really do not like flying at all – I am the one with sweaty palms who grasps the seat when the plane bumps around…)
9 * Could you offer us some brief comparisons and differences of the English game to the Spanish one? The relative strengths of both leagues? Anything in Spanish football that specially catches your eye?
Comparing the Spanish and English games, I think the Premier League is generally more entertaining and it helps the grounds are fuller, but that chaos that makes it so entertaining means perhaps the Premier is tactically less advanced that La Liga. We attack in waves and score lots of goals, but we don't defend well and that has been vital in recent European failures (and at international level). I am intrigued to see if the arrival of Guardiola, Conte and Satan may help English sides tighten up at the back.
My example with this is Hull City…we've been shafted by the Allams this summer with no new signings, but in the opening two games Mike Phelan concentrated on work and defensive organization and we won em both (still amazed at that by the way).
Another difference is that in England refs do tend to let more challenges go and are less fussy… I also like how they play the correct injury time, while in Spain you get 3 minutes added on, someone gets cramp for 90 seconds and they never compensate for it….
10 * Talking from the inside, how is the Spanish media world - TV, press, radio etc. Do they dwell on different things that we do in Britain? I'd maybe say the clamour for player interviews is enormous, but in the news bulletins on national TV they concentrate on public figures too much; you rarely see them showing the actual table classifications: team - played - points etc. !
The Spanish media isn't perfect and the big problem is the huge focus on Barca and Madrid and then Atletico Madrid which leaves other sides ignored by the national media. As in the UK now clubs give less and less access and there is more and more space to fill, which leads to more and more bollocks being produced.. I hate the shouty shows that we have here and am happy to say, I think at beIN the talk shows are well-mannered and informative.
But generally there is not enough access and then you have players who have been coached to say 2/3 cliches and then vanish… (Good game, the team display is more important…I'd rather not discuss the referee zzzzzzzzzzzz)
11 * I understand that you maintain professional contacts with the professional press in Britain, indeed in recent years have held a position of importance as sports editor of the Hull Daily Mail. Is it hard to maintain a double-country activity and two languages as an almost bilingual?
I did have a very short spell back in Hull at the Hull Daily Mail, but it wasn't for me. Partly cos I had a 7am editorial meeting and I was barely able to make grunting noises at that time. Also I didn't enjoy the office experience or office politics, and I was lucky to have an escape route which allowed me to cut my losses and return to Spain.
12 * Could you offer a brief sentence of encouragement to the good-natured Reading Royals Rendezvous fans, some of whom still (almost fondly!) remember the team in the third and fourth tiers of the English game and to who the big international scene seems far removed!
[sorry, this was the only half-orientated Reading question]
David asks me for words of encouragement: OK, I'm going to be honest, being in the Premier is important because of the profile it gives you worldwide, but I actually enjoy my football more at a lower level. It's important, but it's not life or death, perhaps the most fun I had was around 20 years ago when Hull were truly awful, so bad it was almost funny… but at least I could watch the game without getting nervous every time our rivals attacked….
13 * Do you also enjoy reading other football webs in general, or blog sites? Hobbies?
When the footy stops, I tend to watch documentaries (gardening and cooking…not that I have a garden or cook very well, but I find them relaxing) and when I get the chance I like to get out cycling… I have been into it for a long time now and it just helps clear my head.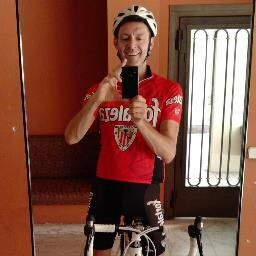 Many thanks for that insight Paul! Thanks for sharing your time with us ...
P.S.
Paul can be found on twitter at: @paulfromhull
please feel welcome to follow him - you'll find a delightful mix of English and Spanish language writings!!